In what can only be called ironic justice, Ku Klux Klan leader Frazier Glenn Miller, the same man who killed three people at a Jewish community center a few weeks ago, was busted while having sex with a black male prostitute in the back seat of a car. Miller, who told an investigator he had lured the prostitute for the purpose of beating him up to save face, was caught with his pants down engaging in acts that were too graphic to be described by authorities.
Miller's behavior and criminal activities have surprised law enforcement officials, but it was the incident in the back of a car that shocked investigators the most. An official commenting on the case declined to give exact details of what police found "Grand Dragon" Ku Klux Klan leader Miller doing when he got busted having sex with a black male prostitute, but described the activities as "salacious" and "shocking" given the fact that Miller had long been involved with the KKK.
The Daily Beast recently published an article which insinuates that Miller could also possibly have been involved with the murder of three black men at a gay book store in 1987. After those murders, Miller fingered two of his associates in the white nationalist party as the perpetrators, but both men he accused had alibis that checked out after a police investigation, and the murders were never solved.
KKK MEMBER CONVICTED IN 1963 MURDERS OF 4 GIRLS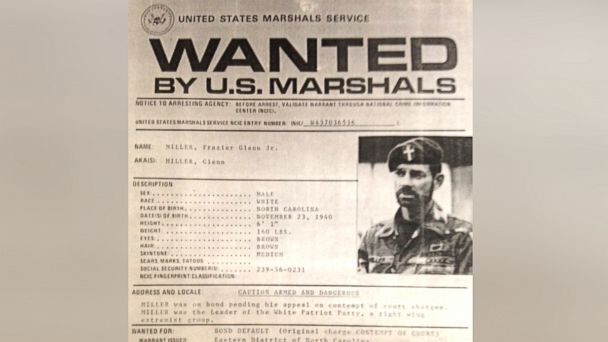 In the course of their investigation, authorities also learned the stunning details of Miller's arrest a year earlier. Raleigh police officers had caught Miller in the back seat of a vehicle, in mid-act with a black male prostitute masquerading as a woman.
"It was pretty shocking," says McCullough, "because of his personal stances that he had taken and what he was now accused on engaging in."
McCullough says he has read the police report of the incident but declined to comment on the specifics. "I would rather not go into the details," he said. "They're rather salacious. I think the facts speak for themselves and people can draw their own conclusions about how incongruous that is."
Miller was not charged in connection with the prostitution arrest and no public record of the incident could be located. But in a recorded phone call with the Southern Poverty Law Center last fall, Miller claimed that he had lured the prostitute to the meeting with the intention of beating him.
Eventually, McCullough, the federal prosecutor, would approve a plea deal with Miller recommending a five-year prison sentence in exchange for his cooperation and testimony against his former compatriots. He would serve less than three years of that sentence at a prison in western New York.
"I am not certain that we got 100 percent of what we wanted," McCullough told WTVD. "He did testify in a couple of cases here in the eastern part of the state, or agreed to testify where the people plead guilty knowing he was going to testify."
In 1998, Miller was a key witness in a high-profile federal trial that charged more than a dozen white nationalists in an alleged conspiracy to levy war against the United States government. The Department of Justice had called it Operation Clean Sweep. Miller testified that he had received two payments totaling $200,000 from a leader of the alleged conspiracy, but in the end all of those accused were acquitted and, incredibly, one of the jurors later married one of the defendants.
"His testimony was extremely weak," says Leonard Zeskind, who tracked Miller's activities in the 1980's as research director for the Center for the Democratic Renewal, a civil rights group fighting Klan activities.
"I believe that Miller was essentially playing a game with the feds. And I don't think he had any intention of becoming a good witness. T he guy was a stone-to-the-bone Nazi," Zeskind says. "He never gave that up. I am on the record as saying the man should have died in prison."
But McCullough says that nothing would have changed what happened last week in Kansas. Even if he had refused to deal with Miller back in 1987, he would have spent no more than fifteen years in prison.
"We made the deal that we could make at the time and whether it's right or wrong, it's really kind of immaterial at this point," McCullough says. "Human beings are unpredictable. I don't think there is anybody who could know what he was capable of doing," he said of the shootings in Kansas. "I certainly never saw that in his personality. He was a blowhard who liked to be in front of a crowd. He liked to whip the crowd up and get the emotions running high."
Very little is known of the years Miller spent in Iowa and Nebraska living as Frazier Glenn Cross.
"He asked for protection from both the White Patriot Party people and blacks in prison because he had alienated both groups," says McCullough. "Obviously once he served his sentence he couldn't go back to where his old compatriots were because he would be at risk. So we had to put him somewhere safe."
It's clear that Cross eventually discarded his assumed identity provided by the federal government and resumed his life as the belligerent, unapologetic white supremacist, Frazier Glenn Miller.
And no one, it seems, could predict the tragic consequences that would follow.
THE KKK'S 1994 FIGHT TO GET ON CABLE TV
Less than three years earlier Miller had been a fugitive from justice, the subject of a nationwide manhunt after he had declared war on blacks and Jews, exhorting his thousands of followers to violently overthrow the very government that would soon become his protector.
"Let the blood of our enemies flood the streets, rivers and fields of the nation," Miller wrote. "[R]ise up and throw off the chains which bind us to the satanic, Jewish controlled and ruled federal government. Let the battle axes swing smoothly and the bullets wiss [sic] true."