A former West Virginia police officer who witnessed the fatal police shooting of a young black man last year is now suing the city where he was employed, saying he was fired for not shooting the man himself.
Stephen Mader was fired from his job as a police officer in Weirton, West Virginia, on June 7, 2016 ― for unsuccessfully meeting the "probationary standards of an officer" and showing "apparent difficulties in critical incident reasoning," according to a federal lawsuit the American Civil Liberties Union of West Virginia filed Wednesday on Mader's behalf.
In an interview with HuffPost, Mader said it was around 2 a.m. on May 6, 2016, when he received a dispatch call about a man who reportedly had a knife and was threatening to harm himself.
When he arrived at the scene, Mader said, he found Ronald "RJ" Williams, a visibly distraught 21-year-old, standing beside the driver-side door of a car.
"We got a call about a domestic," Mader recalled saying to Williams after stepping out of his cruiser. "Do you wanna tell me what's going on?"
"Nah, man. Nothing's going on," said Williams, according to Mader. "You can leave."
As Mader continued to move around the vehicle, he said, he saw that Williams had his hands behind his back. Mader said that he commanded Williams to show his hands, and that after several orders, Williams complied.
"When we brought his hands from behind his back, he had a silver pistol in his right hand," Mader told HuffPost. "I drew my duty weapon and I'm telling him, 'Put the gun down, put the gun down.'"
"Just shoot me," Mader remembered Williams saying.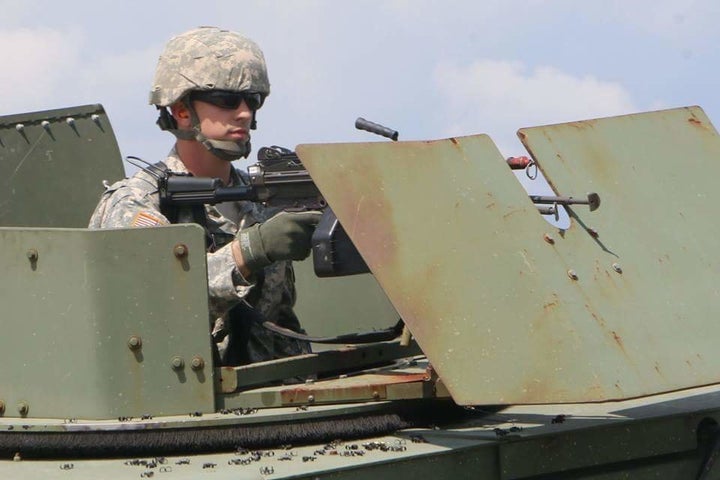 Mader said he concluded that Williams was attempting to commit suicide by cop. "I'm not gonna shoot you, brother," the Afghanistan war veteran recalled saying. "Just put down the gun."
"Nah man. Seriously ― just shoot me," Williams repeated, according to Mader.
The two went back and forth, Mader said, with the officer trying to coax Williams into putting his gun down. Soon, they saw another cruiser driving up the street toward them.
That's when Mader says Williams turned his attention toward the approaching officers, randomly waving the gun between Mader and the others.
"Within seconds, shots were fired and the last shot fatally wounded Mr. Williams to the head," Mader said.
Williams' own gun was found to be unloaded.
Officer Ryan Kuzma, who fatally shot Williams, was placed on administrative leave, along with Mader and another officer. Hancock County prosecutors investigated the shooting and later determined it was justified.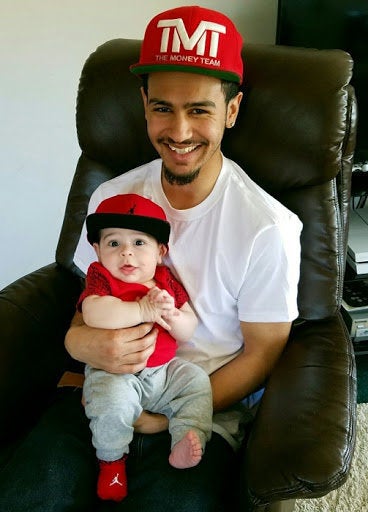 A month after the incident, on June 7, 2016, Mader received a termination notice that said he "failed to eliminate a threat" when he didn't shoot Williams.
Publicly, Weirton's city manager said Mader was terminated for other reasons, according to The Pittsburgh Post-Gazette ― including for not reporting an elderly woman's death as suspicious and allegedly cursing at a woman while he arrested her husband for disorderly conduct.
But Mader's lawsuit argues that the department "terminated Mr. Mader's employment because his decision not to use deadly force to shoot and kill a suicidal African-American male, made or could have been construed to make Officer Kuzma's use of deadly force appear unreasonable or excessive under the circumstances."
Saying the words 'Just shoot me' sent up the red flag that he was just trying to harm himself and no one else … That's what made me make my decision. He needed help.Stephen Mader, former police officer
"Officer Mader's decision not to shoot was clearly reasonable," Joseph Cohen, executive director of the ACLU of West Virginia, told HuffPost. "He had articulable reasons why he thought that RJ Williams was not a threat. And once Stephen Mader believed RJ Williams was not a threat to others, he's not permitted to use deadly force."
"Once he made the decision [Williams] was not a threat, the U.S. Constitution says he's not allowed to shoot," Cohen added. "Not only was his belief reasonable, it was objectively correct. The gun was unloaded."
Mader's decision to talk Williams down instead of shooting him was based on his military and police training, the lawsuit states. Williams wasn't aggressive, Mader told HuffPost, which led him to believe the man was only a threat to himself and that he wasn't looking to harm anyone else.
"Saying the words 'Just shoot me' sent up the red flag that he was just trying to harm himself and no one else. He's not here to hurt anybody but himself. That's what made me make my decision. He needed help," Mader said.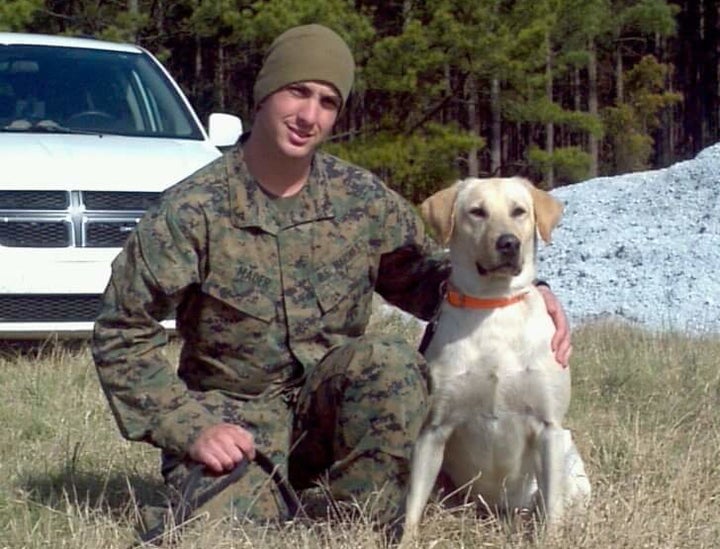 According to the suit, Kuzma called Mader "a coward" who "didn't have the balls to save[his] own life" before calling Mader and his mother "loud mouth pieces of shit" who would get an officer killed.
Mader said he found the messages hurtful and didn't respond to them. "If this is a way for him to get it off his chest, I just let him do it," he said.
The next day, the lawsuit alleges, Kuzma showed up at the school where Mader was obtaining his CDL license in response to a call about a damaged truck. Mader says he tried to avoid interacting with Kuzma, who asked if he'd gotten the text messages. According to Mader, Kuzma asked if the messages were accurate. Mader said he responded, "Not really."
"It started out calm and it kind of escalated. I was trying to keep it calm," Mader said.
A student and Mader's instructor witnessed his interaction with Kuzma, Mader's lawsuit says. The suit claims that the instructor reported it to the school's owner, who called the police chief to file a report, but the chief denied the interaction had happened and didn't write a report.
Kuzma was never disciplined for his actions, and is still with the Weirton Police Department. The department did not immediately reply to HuffPost's request for comment about the lawsuit.
The city manager said in a statement that the city hasn't received the text of the lawsuit or heard about any of Mader's allegations. "It's premature for us to publicly comment on a lawsuit that we haven't yet received," the statement said.
"However, when we do get a copy, it will be reviewed by legal counsel and then a determination will be made as to whether we'll be making any comments on this particular lawsuit."
It's hard to hear the details of Mader's case and not think of ongoing disputes about police training and misconduct. Departments are currently gauging their policies to determine whether officers need better de-escalation training.
There's also the political aspect. Attorney General Jeff Sessions ― who says that federal oversight of police officers prevents them from doing their jobs ― has hinted that his Justice Department will be scaling back its pattern-or practice investigations, which probe whether a department is violating the constitutional rights of citizens. Sessions is also skeptical of consent decrees in which police departments promise to change their practices, and blames "bad apples," instead of systemic failings, for police violence.
Firing an officer who refused to shoot a mentally distressed black man could add an extra strain on the relationship between communities and police, Mader says.
"It would put it in the citizens' minds that this is what [officers are] taught, which isn't true, but it's still the thought in their head," he said. "Their outlook on policing is not what it should be. It's definitely not a confident one."
"This didn't help that at all," Mader added. "In the public's eye, it's not getting any better. It sends the wrong message. This isn't what we want the public to see in policing."
Mader is now a military police officer with the West Virginia National Guard. The ACLU says it was interested in getting involved in his case because of what it highlights about policing in America. There's a wide array of police departments in West Viriginia ― from more insular ones that can be hostile toward the community to departments that are more responsive and open to reform, says Cohen.
"The termination of Stephen Mader shows how much work we have to do to reform the nature of policing in our state," he said.
"If Stephen Mader was reasonable in his objectively correct decision that RJ Williams was not a threat to others," Cohen continued, "the real reason the Weirton Police Department fired him is because he honored Williams' constitutional right not to be shot."