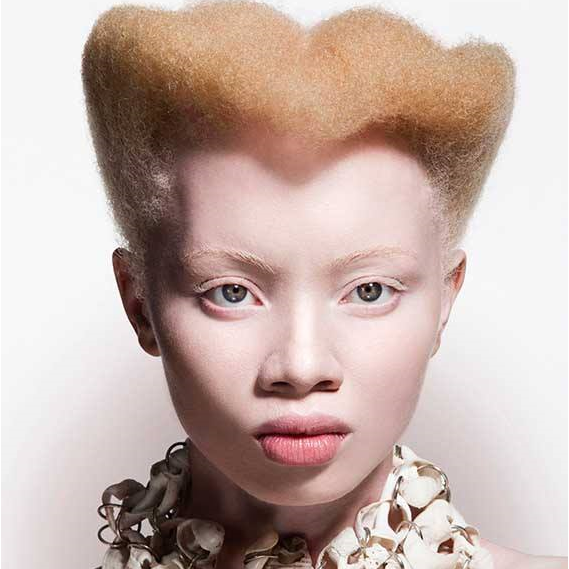 These are pictures that glorify the diversity of being Black. There is no certain way a Black person looks. No specific phenotypes. Black people are the most diverse group of people on the planet and can have any appearance. Less commonly, Black people can even appear to look white and give birth to babies that have the absolute appearance of being white. This tells us a lot about where everyone comes from and celebrates in the diversity of being of Nubian descent.
Due to the black genes being dominant, it means that Black people can create a person that looks like anyone from any race because its the most diverse gene. Albinism in humans comes from the Latin term albus, which means white. It's also called achromia, achromasia, or achromatosis. It's a congenial disorder which is characterized by the complete or partial absence of pigment in the skin, hair and eyes. This is due to an absence or defect of tyrosinase, which is a enzyme that contains copper.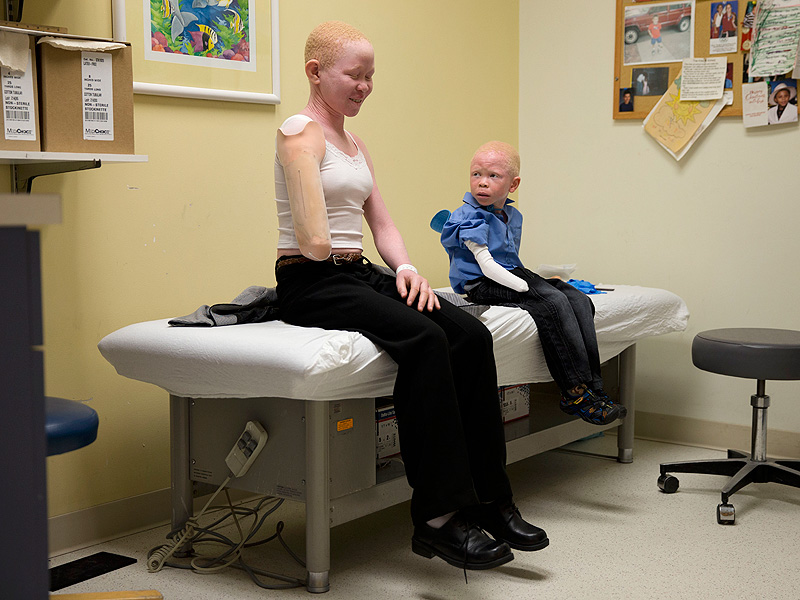 Unfortunately, since Albanism is a defect, it does come with its defects in many scenarios. When the body cannot produce enough melanin, the defective Albinos suffer vast defects.
She looks like Angelina Jolie. But she is definitely an African Albino. Some believe that Albinos were bred by Africans millenniums ago to create an ultimate white race because they were upset with African civilization at the time. Then they trekked to other parts of the world and populated it with other races of people. Some believe Albinos were bred through a subhuman species of cavemen which is where the Mongols are believed to have started from. Yet others testify that as Black Africans migrated to other places, other races were changed due to environment factors. We do know that every true European Caucasian does have a certain amount of Neanderthal in their DNA. There is no scientific explanation as to why. We also know that the Neanderthal genes are said to lie dormant in their bodies.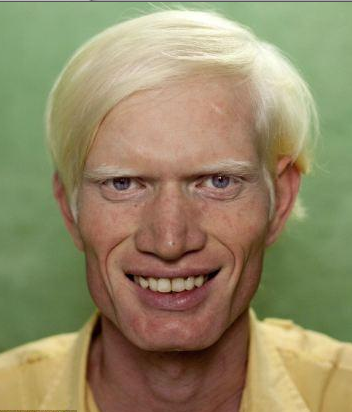 Some Africans have Mongol features. When they have Albino children, their offspring have Mongol features too. No surprise that Africans are able to produce offspring that is identical to Asian people.
Some Albinos can have very Eurocentric features and appear European.
Some Albinos live normal lives except for staying out of the sun and even model.
The sun has terrible effects on Albinos and therefore it is in their best interest to stay away from the deadly sun at all costs.
Scientists are certain that all life started in Africa as we find the oldest relics and have been able to trace all human life to the starting point which was Africa. We also know that African Americans once called themselves Ethiopian. But the white man made us refer to each other as African, though no texts seem to indicate why. One thing is for sure… Africa is the cradle of all civilization and Africans are the mothers and fathers of the universe. Perhaps if we all embraced that we were all mothered by the same mother in Africa, we could minimize our differences world wide and end racism.