The state of California has decided that freedom of speech is a privilege, not a right. Apparently, prosecutors believe that writing lyrics about crime is a crime itself – and one punishable by a life sentence in prison.
Brandon Duncan, also known as Tiny Doo, is in fact heading to trial, as a judge decided that there is legal grounds for prosecuting the man for his lyrics.
"We're not just talking about a CD of anything, of love songs. We're talking about a CD (cover) … there is a revolver with bullets," Deputy District Attorney Anthony Campagna said, justifying his unConstitutional prosecution of the musician.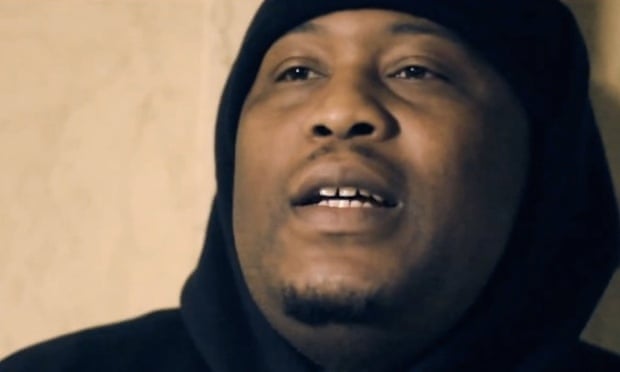 Duncan is charged with "gang conspiracy" because his "gang gained in status" from crimes, and this – prosecutors argue – allowed him to "sell more albums."
This refers to a bizarre law voted into effect back in 2000 that has never been used in court until now. That law, California Penal Code Section PC186.22(b)(1), says:
"Any person who is convicted of a felony committed for the benefit of, at the direction of, or in association with any criminal street gang, with the specific intent to promote, further, or assist in any criminal conduct by gang members, shall, upon conviction of that felony, in addition and consecutive to the punishment prescribed for the felony or attempted felony of which he or she has been convicted…"
"It's shocking. He has no criminal record. Nothing in his lyrics say go out and commit a crime. Nothing in his lyrics reference these shootings, yet they are holding him liable for conspiracy. There are huge constitutional issues," Brian Watkins, Duncan's attorney, said of the case.
If you care about freedom of speech, and believe the State should not regulate art or effectively ban it (through prosecution) – even art that we might not like the message of – then help us SPREAD THE WORD and demand that the State of California #FreeTiny!
You can contact Deputy District Attorney Anthony Campagna and demand that he obey the Constitution of the United States at the following:
(Though the charges were dismissed, this lyricist/rapper did almost a year (8 months) in jail because of the content of his music. That says a lot about our fair legal system.
Hall of Justice
330 W. Broadway
San Diego, CA 92101
619-531-4040
FAX: 619-237-1351
publicaffairs@sdcda.org