If you are black then you obviously know that there are many racist places on planet earth where they are not fond of black. Some places have a history of being racist. Recently online, there has been an abundance of articles that mention such places that are racist where they even suggest that blacks are to stay away from. Perhaps the authors of these outrageous articles need to consider that at one time, the United States was the most racist place on the planet. Now, some parts of the United States have a high tolerance for integration.
Black people have not come so far to be scared of traveling the world and exploring other lands and cultures. We are a strong and prideful people, for the most part. Most of us simply won't be scared to travel to any part of the globe because we fear racism. Black people are naturally strong so therefore we know how to defend ourselves against threats. Black people also understand that most places that are racist against blacks, are merely terrified of black people.
I don't understand the agenda of these articles that post the most racist places for black people and suggest that we should avoid going to these places. Actually, there are those of us who would particularly like to visit these places in particular. Black people are not afraid of racism. If we were, black people would still be slaves. But at a time when percentage of blacks was lower than 13 percent of the population, black people fought against slavery and fought one of the most brutal wars in American history, which was the civil war. And we won. That shows the strength and endurance of black people.
What these articles should be mentioning or pointing out is the problem of racism and how to combat these problems when we visit these countries or places. What makes them so racially intolerable? Is it xenophobia? Are they racist because these people that live there aren't that familiar with being around black people and only know what they see and hear on a biased media that exploits black people every chance they get? Perhaps, by visiting these racist places, our presence alone will make them less racist and more tolerable. Perhaps, meeting a kind and generous black person will open up the minds of some of these racists and actually make the place less racist. Maybe, there are stories there that need to be shared with the rest of the world and they truly have problems that the rest of the world needs to pay attention to in order to end the racism that exists there.
Black people travel to where we like to travel. We are mostly not thinking about racism but most black people are experienced in dealing with butt heads who will form an opinion about someone, merely based on the composition of their skin complexion. Don't let me keep seeing these articles about the most racist places. If any of these websites want to prove that these places are so racist against blacks, then they need to journalist work and find compelling stories of the racism in these places. Otherwise, such nonsense articles are simply a waste of everyone's time and worthy of reading.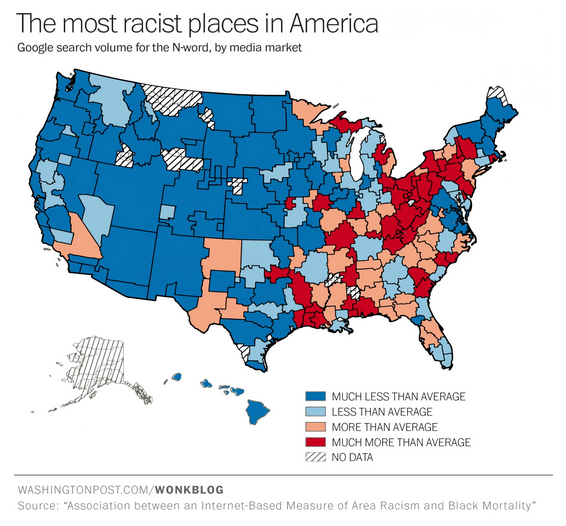 One study claims they used Google search data to find the highest incidents of racism. Truth is, I have ran those searches myself and I am certainly not racist against myself. There is one way only to determine how racist a place is, and that is to go there and enjoy it! Let's live a happy life people!