In this June 30, 2016, file photo, Philippine President Rodrigo Duterte gestures as he delivers his speech before a solidarity dinner with the poor event at a slum area in Manila, Philippines. Duterte blamed U.S. intervention for the bloody conflicts in Iraq and other Middle Eastern countries in his latest critical remark against Manila's closest security ally.
Duterte suggested in a speech to Muslims on Friday, July 8, 2016, that U.S. policy was to blame for terrorist attacks on its soil, saying, "It is not that the Middle East is exporting terrorism to America, America imported terrorism."
Despite his remarks, there has been no indication that he would move to change the country's robust defense ties with the United States.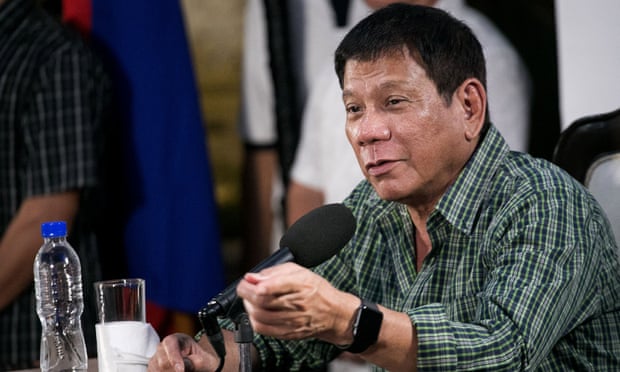 "As a nation, we must sit down," he said. "Why will we kill each other?"
VIENTIANE, Laos (AP) — President Barack Obama called off a planned meeting Tuesday with new Philippine President Rodrigo Duterte, seeking distance from a U.S. ally's leader during a diplomatic tour that's put Obama in close quarters with a cast of contentious world figures.
It's unusual for one president to tell another what to say or not say, and much rarer to call the other a "son of a bitch." Duterte managed to do both just before flying to Laos for a regional summit, warning Obama not to challenge him over extrajudicial killings in the Philippines.
"Clearly, he's a colorful guy," Obama said. "What I've instructed my team to do is talk to their Philippine counterparts to find out is this in fact a time where we can have some constructive, productive conversations."