"We can't create a culture that says it cares about diversity and then excludes almost half the country because they back a political candidate," Zuckerberg continued. "There are many reasons a person might support Trump that do not involve racism, sexism, xenophobia or accepting sexual assault."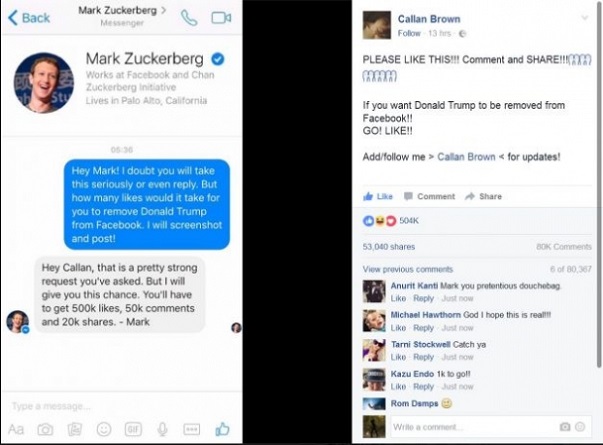 In short, Mr. Zuckerberg has no intentions of removing Donald Trump off of Facebook. Zuckerberg also supported $1.25 million dollars to Trumps campaign by Theil, an early investor who maintains deep connections to Silicon Valley.
Mark Zuckerberg posted on his Facebook account that he is glad that the President has tremendous belief in the country and to its citizens. He also said that Trump is commendable for saying that Americans must continue to benefit from the people who have great talent and are coming into the US. He ended his Facebook post by saying that the United States of America is a wonderful nation of immigrants and that we, not just the tech industry but the American people, can benefit greatly when brilliant minds from all over the world work, contribute, and live in the United States. Business moguls cooperate with the President in order to protect their businesses, but Zuckerberg's positional perspective seems to be vital to the success of his company.
To put it short, know who has your best interests in heart and know who doesn't. Know who is your friend and understand who your enemies are. Because as much as you support your enemies and keep them relevant, you can guarantee that they will not oblige your efforts.